Whether you are a hunter or a hobbyist, finding the right air gun can have a big impact on the type of experience you have. You need a gun that's easy to handle, yet also has the power and the precision to hit your target. If you use the wrong gun, your pellet could simply stun that squirrel, not kill it. If you use the wrong gun, your shot could fall far short of your target, whether it's a paper bull's eye or a running rodent.
Learning all you can about the available air guns on the market can help you find the right tool for the job. Reading reviews is one of the best places to start because you can learn from customers who have experience with the guns and what they are like.
If you read Gamo air rifle reviews, you will quickly learn that it is one of the best air rifle brands out there. Gamo has a reputation for excellence for its air guns and air rifles. The company was founded just over a century ago, and it has become the top gun and rifle producer in Europe, as well as the top pellet producer in the world.
Gamo makes a high-quality yet highly affordable line of air guns and rifles. These guns provide the power and precision that most hobbyists and hunters would need, yet they fall a bit short of the most expensive, top-of-the-line guns. For example, you can shoot rodents with accuracy from some distance, but you might not be able to get a one-hole group at 25 yards. Those who can shoot with that kind of accuracy are rare anyway, and those people would be better off investing in a higher quality (and more expensive) gun. Gamo guns are also more accurate than other similarly priced and similar quality guns, such as the Beeman line and the Benjamin line.
The spring piston air guns from Gamo are suitable for any type of shooting. That means you can use the same gun that you take with you for small game hunting on the weekends to shoot targets after work. The guns are also powerful enough to take down moving targets quickly and humanely. You can shoot rabbits, as well as small birds.
Gamo guns may not be as stylish as some other lines of air guns, but really, beauty is in the eye of the beholder. Many people love the pared down design. Even those who wish for a little more flash in the aesthetics are willing to make the tradeoff for the affordable pricing and other excellent qualities of Gamo guns. If you want a flashy gun, you'll have to spend the big bucks. If you want an accurate gun that will fit your budget, you should invest in a Gamo.
Gamo makes a wide line of air guns that may fit your needs. Here are our reviews of some of the most popular models to help you choose:
Gamo Silent Cat Review

When you pick up the Gamo Silent Cat air rifle, you'll feel like a sniper on a mission. The cool design includes an elongated barrel with a noise dampener, and the forearm includes a mounted scope for greater precision when shooting.
You won't just look the part; you can also play the part. The rifle is high-powered and designed for accuracy. It includes 0.177 caliber PBA ammunition and shoots at a velocity of 1200.00 feet per second. The bullets are match-grade lead, allowing you to hunt small game and pests, such as squirrels, beavers and possums.
You can set up behind a barricade and stalk your prey. The 4×32 scope allows you to get a good shot even at a distance. The non-removable noise dampener also means that you won't scare off nearby prey when you take your shot. The noise is reduced by up to 52 percent with each shot.
The Gamo Silent Cat air rifle is lightweight and easy to handle. A rubber pad helps with recoil absorption, and there is an automatic cocking safety system. The gun also features a manual trigger safety.
The gun is a bargain at any of the current prices that it is available for on the market. You'll also get a one year limited warranty with your purchase.
Read any Gamo Silent Cat review and you'll see that this is a great gun for an affordable price.
Gamo Hornet Review

When you just need a basic but dependable air rifle for a low price, the Gamo Hornet Air Rifle is a great choice. This is a stripped down gun with a simple design, but it doesn't let you down on performance.
The Gamo Hornet Air Rifle shoots 0.177 caliber PBA Raptor ammunition for both hunting small game and target practice. The rifle shoots at a velocity of 1,200 feet per second, so it gives you the power to make a clean shot when you are hunting. If you use lead ammunition, the velocity drops to 1,000 feet per second.
Other features that make the gun easy to handle include a single break-barrel cocking system, a manual trigger safety, an 18-inch barrel and a light weight. The 4×32 scope means that you'll be able to make a more accurate shot. The rifle also features twin cheek pads, non-slip texture on the grip and forearm, and a ventilated rubber pad on the butt. The rifle only requires 3.74 pounds of pressure for the trigger and 30 pounds for cocking.
The design of the Gamo Hornet Air Rifle is very simple, and there aren't a lot of bells and whistles. The black steel barrel features a fluted polymer jacket, and other than the scope, the design is that of a basic rifle.
The best part about this gun is that it is very affordable. This gun comes in the $100-$200 range which is pretty good for the quality of gun you're buying.
Gamo Whisper Review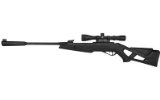 The Gamo Whisper is similar to the Gamo Silent Cat, but the design is a bit more sophisticated – making the price a bit higher, as well. You'll still be shooting the same 0.177 caliber PBA ammunition at a velocity of 1,200 feet per second, which means that you'll get the same power and performance for hunting or for target practice.
The upgrades here include a newly designed noise dampener that won't impact performance or accuracy. It's still non-removable, and it still lowers noise by as much as 52 percent. The scope is 3-9×40, giving you better sight for greater accuracy. The rifle also includes two glow sights. The rifle includes the same spring loading action, which makes it easy to use.
The Gamo Whisper features a basic black steel design that has beautiful curves and angles. Rubber padding on the butt makes the gun easy to grip and comfortable when in use. This is a sleek model that will be easy to use and powerful enough to make the shot you want.
While this Gamo Air Rifle tends to be a bit more expensive than other models, don't let that sway your decision. The higher price is well worth the upgraded design, the ease of use, and the accuracy in performance.
Any Gamo Whisper review is bound to compare the rifle to the Gamo Silent Cat, but the Whisper wins out for slight improvements that enhance the overall experience.
Gamo Varmint Stalker Review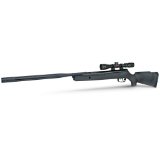 This air rifle is beginner friendly but powerful enough for more seasoned hobbyists, as well. The Gamo Varmint Stalker receives positive reviews from both hunters and hobbyists based on its accuracy and performance. The rifle is powerful enough to shoot almost all small game, and it is accurate enough to do so at a distance.
The rifle shoots 0.177 caliber ammunition at a velocity of 1,250 feet per second, and it includes a 4×32 scope. The rifle also includes a rotating breech, automatic cocking safety system, and a two-stage trigger. Some have remarked that the light weight makes it much easier to handle this air gun and get better accuracy when shooting.
You can use the Gamo Varmint Stalker in any kind of weather, thanks to the synthetic stock. Comfort features include a ventilated butt pad and a cheek pad molded on both sides for right and left-handed shooters.
The design of the Gamo Varmint Stalker is very similar to other rifles in the line. It features a black synthetic stock that is suitable for all weather conditions. The front sight and muzzle break are a bit more streamlined, so they don't stand apart from the barrel as much. The matte finish looks subdued and sophisticated.
Prices vary for the Gamo Varmint Stalker, but you should be able to pick one up for a very reasonable price. You can find this model at Amazon or specialty online air rifle retailers. You may also be able to find one at a big box retailer that carries air rifles, such as Wal-Mart.
Gamo Bone Collector Bull Whisper Review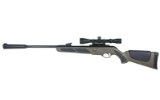 Many consider the Gamo Bone Collector Bull Whisper to be the best Gamo air rifle, or at least one of them. This sophisticated air rifle features a gorgeous design in addition to exceptional performance.
The Gamo Bone Collector Bull Whisper air rifle features an IGT gas piston, which stands for inert gas technology. This technology gives the gun more power (velocity) and reduces the vibration common to so many air rifles. The textured pistol grip, manual safety smooth action trigger (SAT), and shock wave absorber recoil pad (which absorbs 74 percent of the recoil) all contribute to smooth handling. You'll enjoy smoother cocking and smoother shooting. The gun will feel light and easy in your hands.
The rifle comes with a 4×32 mount and elasticized scope lens covers. You'll be able to use this rifle in all weather, including rain and cold. The functionality is not compromised in any of these conditions.
The Gamo Bone Collector Bull Whisper also looks great. The body features a camo green, accented by black pads along the forearm, the grip and the butt. The barrel, muzzle and scope are all black steel. This looks like a serious hunting rifle that you'll be proud to show off with your friends on your next hunting trip.
The Gamo Bone Collector Bull Whisper is a bit more expensive than other Gamo rifles. The Bone Collector Bull Whisper is the top of the line Gamo Air Rifle which tends to make it cost a premium price, but you may be able to find a deal for much less.
Reading Gamo air rifle reviews can help you determine the best Gamo air rifle for you. Use this information to help you find an air rifle that will meet your needs and that you'll love.
Related pages
powered by
Related Pages WP plugin