When looking for an air rifle to use in a competition, you need quality if you are to stand any chance of winning, or doing well. That is why you need to look the best competition air rifles when you are looking for your rifle. Second best just won't do if you want any chance of winning the competition.
There are various components that you need to keep an eye out for when looking for best competition air rifles.
Trigger Quality
Generally speaking for competitions you will be looking for a lighter pull on your air rifle, making it easier to get your shots off, and easier to target. 3.5lbs of force is the standard, but if you can get less than that you will be better off.
Scope Or No Scope
Some rifles come with the scope already installed, and some don't come with one at all. This can be an added expense that you haven't accounted for.
Usage
Do you just want a gun for competitions, or are you looking to use it for other tasks. If you are then you should bare this in mind when looking at features.
Below are three of the best competition air rifles on the market. Pick any of these three and you will have chosen a high quality model that will help you do extremely well in your competitions.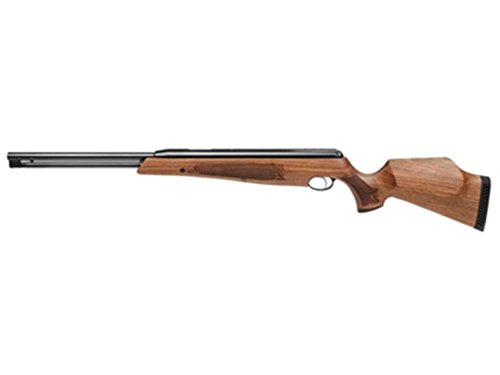 The Air Arms TX200 MkIII air rifle is one of the most popular air rifles
among competition shooters
. Its versatility is one of the biggest selling points, you can use it for everything from competition, to hunting. IT also looks fantastic, being finished in a fantastic wooden finish.
Velocity
Size
Power
Source
Caliber
Pellet
Capacity
BB
Reservoir
Up to 930 FPS
Weight: 9.3 Pounds
Length: 41.34 Inches
Sprint Piston
.177, .22
Single Shot
N/A
Pros
– Fantastic All Round Rifle – If you like to use your rifle for more than just competitions then this is the one for you. Great for hunting, tin can shooting, or any other use. It looks and feels high quality, and is the kind of gun that will last you for years to come.
– Moderate Recoil – Makes it ideal for competition as you can quickly re-aim and get further shots away without the extended re-targeting time that might come with more recoil.
Cons
– No Sight Included – If you want a sight on the gun you will have to install one yourself, as the rifle does not come with on as standard.
– Heavier Trigger – The trigger on this rifle is not the lightest on the market. It is still light enough for competitions, but not quite as light as some other options.
Few downsides and plenty of upsides make this a fantastic choice for almost anyone looking for one of the best competition air rifles. It is no wonder this is a bestseller and has fantastic user reviews

If you are looking for a slightly more budget, but still high quality, well regarded air rifle, then the Diana RWS 34P air rifle is a great choice. Well under half the price of the Air Arms option but still good quality, and some great features.
If you aren't quite willing to drop $700 on a competition air rifle, but are still serious about competing, then consider this model.
Velocity
Size
Power
Source
Caliber
Pellet
Capacity
BB
Reservoir
Up to 1000 FPS
Weight: 7.75 Pounds
Length: 46 Inches
Spring-Piston
.177, .22
Single Shot
N/A
Pros
– Great Value Air Gun – The value of this air gun cannot be overstated. Considering its features how many great reviews there are for it, the price of this gun is almost unbelievable.
– T06 Trigger – This is one of the most up to date triggers out there. It is a light trigger well designed for the kind of shooting that you will be doing in competitions.
Cons
– Air Arms Gun Higher Quality- While there is no doubt that this is an extremely high quality air gun, there is also no doubt that the Air Arms is more high quality. It has better quality components and a better finish. This is a great gun, but if you need the absolute best the the Air Arms might for you.
– Lack Of Rubber Buttplate – This is the only real recurring complaint among people that have used the gun have to say. It might make it easier and more comfortable to use, but it is really just a minor quibble compared with just how good quality, and great value this gun is.
On a purely value for money, vs quality, and features basis, the Diana RWS 34P air rifle is one of the best competition air rifles. It is an all round gun at a great price.

The Diana RWS 48 Air Rifle, TO6 Trigger is the mid range option of the three air guns profiled here. Not quite as cheap as the Diana 34, but not as high priced as the Air Arms. Its features sit somewhere between the two too. With it having a wooden finish than the 34 doesn't have, but not quite as nice as the Air Arms.
Velocity
Size
Power
Source
Caliber
Pellet
Capacity
BB
Reservoir
Up to 1100 FPS
Weight: 8.5 Pounds
Length: 42.13 Inches
Spring-Piston
.177, .22
Single Shot
N/A
Pros
– Includes A Sight – Unlike some of the other air rifles out there, this one includes a sight. That means no extra expense, you can start straight away.
– High Quality Features – If you are serious about competitions then this is probably the rifle to go far as it has more high quality features than the slightly cheaper options.
Cons
– The Included Sight Isn't Highly Rated – Some reviews state that the sight that comes with the gun isn't really up to the standard required, and might need to be replaced.
This is a serious gun for serious shooters. It will do almost everything you ask it to do, and if you are looking for the best competition air rifle, but aren't willing to shell out for the Air Arms, then this one won't let you down.
Related pages
powered by
Related Pages WP plugin