The power of an air rifle is usually one of the determining factors in whether you will want to purchase it or not. One important thing to keep in mind when reviewing your options is to remember that price does not always mean most powerful. Many factors go into the price of an air rifle, and while overall power is one of them, there are several other factors that go into the best overall gun. Below are two very solid options of powerful air rifles that can be purchased in the mid price range from Gamo Air Rifles.
Gamo Big Cat 1250 Air RIfle

Purchasing a high quality air rifle that is also affordable can sometimes be somewhat difficult. Fortunately, there is an air rifle available for less than $200 that is among the most powerful air rifles in existence. It is the
Gamo Big Cat 1250 Air Rifle
, complete with a 4×32 rifle scope. There are many things about this particular rifle that sets it apart from its competition. It is a .177 caliber rifle that can shoot any type of pellets of the correct caliber. Moreover, it is
designed with a fluted barrel
that makes it both more durable and more reliable in all types of weather conditions, even in rain or extreme cold. The rifle has a single cocking system and is designed to absorb recoil, making it easier and more comfortable to shoot with. Its 18 inch barrel is capable of dispensing PBA platinum pellets at 1200 feet per second. When using traditional lead pellets, the rifle is still capable of producing 1000 feet per second consistently.
The rifle weighs in at just over 6 pounds and when all of its attributes are considered, it is one of the most powerful air rifles available. It is also one that is capable of consistently performing in virtually any types of conditions, no matter how harsh they may be. It is surprising that it is available for less than $200, but it is truly affordable.
Velocity
Size
Power
Source
Caliber
Pellet
Capacity
BB
Resevoir
Pellet: Up To 1200 FPS
BB: N/A
Weight: 6.1 Pounds
Length: 43.3 Inches
Spring piston
.177
Single Shot
N/A
Gamo Silent Stalker Whisper IGT Air Rifle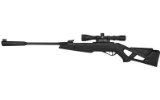 For individuals who are willing to spend a little more on a powerful air rifle, the
Gamo Silent Stalker Whisper
IGT Air Rifle is available for sale for less than $300. This rifle uses technology that is completely apart from the technology used in most air rifles. For example, it is able to dispense its ammunition
using inert gas technology
, which makes it extremely high powered. It is even
suitable for hunting
in some circumstances due to its ability to shoot with high power each and every time. The rifle is equipped with dual fiber optic sites and is also capable of shooting in any type of weather. It features a noise dampener and it is able to absorb recoil much better than most rifles. It is easier to cock and to shoot than most other air rifles, making it a popular choice for beginners and experienced shooters alike.
This rifle weighs in at approximately 7 pounds, making it easy to use and to carry over long distances. For anyone who is interested in purchasing air rifles that are among the most powerful available in either of these price ranges, these two particular models are ideal examples of the air rifles that are available in their respective price ranges. As a result, it is relatively easy for individuals who are searching for a high powered air rifle in a variety of price ranges to find a product that they can use. Each of these rifles offers different technology, explaining the difference in price ranges. However, both rifles are definitely at the top of their line for the price for which they are available for purchase. Solid technology and reliable, consistent performance can be found easily with either model, leaving it up to the individual to decide which model they would prefer to have.
Velocity
Size
Power
Source
Caliber
Pellet
Capacity
BB
Reservoir
Up to 1300 FPS
Weight: 7.15 Pounds
Length: 43 Inches
Gas Piston
.177, .22
Single Shot
N/A
Related pages
powered by
Related Pages WP plugin