When it comes to shooting an air rifle, aim is everything. Without aim, you have nothing. You may miss the target, hit the wrong part of the target, or worse, hit something other than the target that you did not mean to hit.
If you are trying to increase your aim, and become a more accurate shooter, then you need a scope. A scope helps you aim, and makes your shooting a lot more accurate. But with so many scopes on the market it can be difficult to decide which one to go for. Fortunately, we are here to help by giving your the best air rifle scope reviews. Read on for a quick review of the three top air rifle scopes on the market.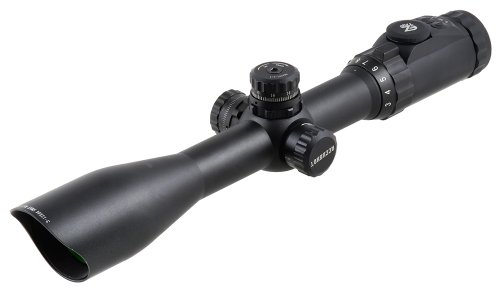 This is one of the most popular air rifle scopes on the market, and with good reason. It is well priced, it has some excellent features, and almost every user review is positive, which is really the mark of how good a product is anyway.
Pros – This is the top selling air rifle scope on most of the major sites. It is great value, being surprisingly cheap considering how high quality it is, and the great features that it contains. Review are excellent. For most people this is a great all round rifle scope option. Ideal for many uses.
Cons – There are one or two complaints that the number of colors in the recticle are redundant, and that they could do with reducing them. – Some reviews state that a bigger side wheel would be advantageous.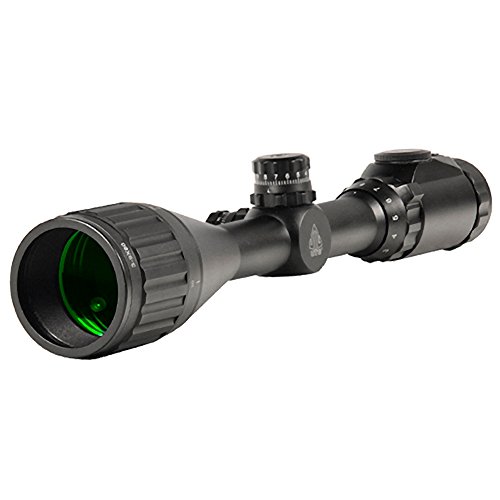 This is another of the top selling air rifle scopes on the market. Number two on the list of bestsellers in fact. It has a 50mm objective lens, 35.6′-12′ field of view, and a 3.9″-3.2″ eye relief. It is 13.27 inches long. It is finished in a fantastic emerald coating, which gives it an extremely high end feel, despite its relatively low price.
Pros – The UGT 3-9X50 AO Rifle Scope is ideal for shooting in all kinds of different weather conditions. It is fogproof, so you can use it in poor visibility conditions. It is also rainproof, this means that you can use this rifle scope in a huge range of different weather conditions, and even in the absolute worst conditions. – It is shockproof, this means that you can use it if you are moving around a lot, or it may get bashed around. This, along with many of the other features means that it is an extremely versatile scope. Ideal for hunting, competitions, and more.
Cons – There are one or two minor complaints that the recticle on this air rifle scope are a little small, not everyone is complaining but it is something to be aware of. – Some reviews believe that the scope should offer the choice of 11mm clamp rings, rather than the size it offers now.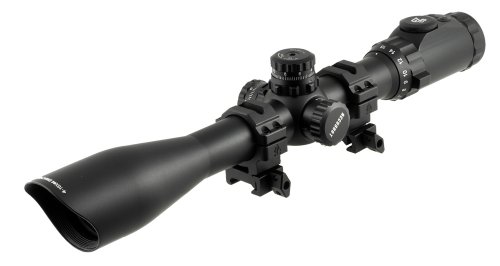 This is the most expensive of the four rifle scopes that are being reviewed here. It receives fantastic reviews, and has the highest quality features of any of the air rifle scopes that are being reviewed. It offers 4-16x magnification, and is shockproof, fogproof, and rainproof.
Pros – Highest quality, of the top three models, this one is the highest quality. It gets fantastic reviews, and has great features. If you want the best, then this is the air rifle scope to potentially choose. – Many reviews state just how high quality that this rifle scope feels. This is in contrast to some cheaper options which don't look, and feel quite as nice. If you want high quality, then this is the rifle to choose.
Cons – The recticle is the only thing bringing up a few minor complaints with this rifle scope. A few people do not like the illuminated recticle (although at the same time, many do), also, some people would prefer a different dot size. This is a minor complaint, but a few people have mentioned it so be aware. – The view gets hazy at anything greater than 12x zoom according to a few reviews, so if you need ultra zoom then you might want to look elsewhere.
Which Is The Best Air Rifle Scope?
Out of these three best air rifle scope reviews, you might be wondering which to buy. Generally speaking the best advice would be to go for the most expensive option, the UTG 4-16×44 AO SWAT AccuShot Rifle Scope. This may sound surprising, but it isn't a huge amount more expensive than some of the other options, but its feature list is much higher. It looks, and feels high quality, and for the extra $10-$20 then it is well worth the purchase over the other two. If you do choose to go for one of the cheaper options you won't be disappointed however, as all three of these are fantastic air rifle scopes.