Pellet guns are popular for all kinds of uses, from target shooting to recreational shooting to hunting. Whether you are interested in a pistol or an air rifle, there are a range of options and styles to suit your needs and your taste preferences.
One of the most popular uses for pellet guns is hunting. You can go pellet gun hunting for game as small as squirrels or as large as whitetail deer. What you can hunt depends on the type of gun you select, the ammo you load it with, and the regulations in your county or state.
Here's what you need to know to get started with pellet gun hunting:
Types of Pellet Guns For Hunting
Pellet guns come in a variety of models, and you can use any of them for hunting. What you should choose depends on the kind of game you plan to hunt.
For example, spring-piston air rifles are able to shoot at longer ranges, which is a great choice if you need to shoot your prey from long distances. Though spring-piston rifles provide great accuracy, they only allow you to get off one shot before having to pump the gun again. If you miss your shot, you likely won't be able to get off another one before your prey runs off and is out of sight. These guns also have more kickback than other types of pellet guns, so if you are a novice shooter, they could be hard to handle.
Ruger Air Hawk Spring-Piston Air Rifle

The Ruger Air Hawk is a very good example of a spring-piston air rifle that you would use to hunt smaller game. Overall this is a very good gun for the money as it falls in the $100-$150 category. You will get a solid, powerful hunting air rifle at a very manageable price. It comes with a nice solid wood stock, and while it does add some weight to the gun, the additional weight seems to help somewhat with the recoil. Because it is more of a budget level pellet rifle, the drawbacks include uneven sights which will cause you to have issues lining them up as well as a lower grade scope. The scope is replaceable so if you wanted to invest in a better one you would certainly be able to do so. This is one of the better budget or entry level guns that can be had for a very reasonable price so if you're interested in trying out pellet gun hunting you can't go too wrong with this option.
Velocity
Size
Power
Source
Caliber
Pellet
Capacity
BB
Resevoir
Pellet: Up To 1000 FPS
BB: N/A
Weight: 8.16 Pounds
Length: 44.8 Inches
Spring Piston
.177
Single Shot
N/A
Multi-stroke pneumatic pellet guns are a great choice for hunting since they allow you to get off several shots with great accuracy as far as 1,000 feet away. Pre-charged pneumatic guns provide the same benefits, but they could be harder to handle for beginners, who may find monitoring the air pressure to be confusing. CO2 guns, powered by carbon dioxide, have all the benefits of pneumatic guns without having to monitor gauges.
Benjamin 392 Multi-stroke Pneumatic Rifle
| Rating | Price | Purchase Options |
| --- | --- | --- |
| | | |
Benjamin Rifles, the specialty line from Crosman, offers a very nice mid range gun, the Benjamin 392 at a very affordable price range $125-$175. Sporting a hardwood Monte Carlo stock that is both sleek and lightweight, this gun also offers very nice power allowing up to 8 max pumps for up to 685 FPS. While the stock sights aren't the best, those can be changed out, and with a Williams peep sight, nickel size groupings at 40 yards is certainly possible, displaying the type of accuracy this gun can achieve. The overall weight and length make this a suitable option for younger kids that are looking to get into pellet guns so it can be used by both veteran small game hunters or those new to the sport. Overall you will be getting a good, solidly constructed, beautiful gun for a price that won't break the bank.
Velocity
Size
Power
Source
Caliber
Pellet
Capacity
BB
Resevoir
Pellet: Up To 685 FPS
BB: N/A
Weight: 5.5 Pounds
Length: 36.25 Inches
Multi-pump
Pneumatic
.22
Single Shot
N/A
Types of Game for Pellet Gun Hunting
Fox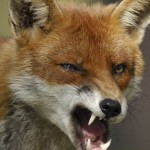 Squirrel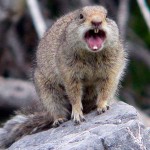 The type of game you can hunt with pellet guns depends on the power of the gun and the kind of ammunition used. Most guns can take out small game such as birds and squirrels. For squirrels and rabbits, you'll need a gun with a velocity of at least 400 feet per second, or fps. Move up to at least 1,000 fps if you're looking to kill mid-sized game such as raccoons and foxes. Some hunters claim to have killed deer or javelina with rifles that shoot 1,500 fps.
Not only does the power of your gun and caliber of your ammunition determine what kind of game you can hunt, but also the accuracy of your shot. The larger the animal, or the weaker the gun, the more precise you must be to make the kill. Otherwise, you're just going to injure the animal and scare it off.
Best Ammunition
There are four common calibers for pellet gun ammunition: .177, .20, .22, and .25. The .177 caliber is the fastest since it is the smallest and most lightweight. However, many hunters have said anecdotally that the pellet tears right through many types of game and doesn't deliver a fatal blow — even for some birds. Choosing .20 or .22 is best for most small game, including birds, squirrels and rabbits. Stick with .25 for the largest game, such as foxes or deer, if you're feeling lucky.
Remember that the larger the caliber, the slower your velocity will be, reducing your gun's power and reach.
LPH .22 Caliber Hollow Point Pellets

These hollow point pellets provide consistent accuracy at a cost effective price. They also pack enough power to take out various small game such as rabbits and squirrels in a single shot which is helpful considering most of the powerful hunting pellets are single shot rifles.
Regulations for Hunting with Pellet Guns
Laws and regulations for hunting with pellet guns can vary by city, county and state, so you should check with your local municipality before getting started. Many municipalities allow you to own and use a pellet gun without a license, but some require you to have one. Some places may also require you to have a hunting license.
No matter what kind of gun you use, you will also be subject to restrictions on where you can hunt, when you can hunt (what days, what time of day, and what periods throughout the year), and how much you can kill. Species that have become overpopulated or that are pests may have no bag limit, meaning that you can kill as many as you want. It's important for you to check up on all your local ordinances before you shoot. Otherwise, you could face fines and penalties.